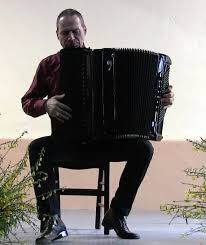 🇮🇹 🇬🇧Francesco Palazzo (Martina Franca 1969) ha studiato con Salvatore di Gesualdo. Si è diplomato brillantemente in Fisarmonica (primo in Italia) presso il Conservatorio "L. Cherubini" di Firenze, completando la sua formazione attraverso studi umanistici, di Composizione, Musica Corale e Direzione di Coro.
Menzione Speciale "S. Gubaidulina" all' "Ibla Grand Prize" 2001 e 2002 ha ottenuto la possibilità di esibirsi in concerto svolgendo un'importante attività concertistica nelle principali città italiane e all'estero (Olanda, Germania, Polonia, Russia, Ucraina, Albania, Congo) per importanti associazioni concertistiche e rassegne musicali e in prestigiose sale ( New York – Lincoln Center , Alice Tully Hall, NY University, National Philarmonic Kiev, Teatro Petruzzelli di Bari, Teatro Villa Torlonia – Roma)
Ha condotto una personale ricerca tecnica ed espressiva, basata anche su confronto con altri strumenti, che lo ha spinto a rifondare la sua tecnica esecutiva su basi nuove e a progettare e far costruire uno strumento da concerto più rispondente alle rinnovate esigenze artistiche.
Dal 1993 è docente di Fisarmonica presso il Conservatorio "N. Piccinni" di Bari; parallelamente all'attività concertistica e di insegnante, svolge quella di revisore e compositore con svariate pubblicazioni di trascrizioni, adattamenti e proprie composizioni per fisarmonica oltre ad una importante opera di carattere didattico intitolata "Fondamenti di Tecnica Fisarmonicistica", per la Berben edizioni musicali e per la Physa Ed. Musicali.
Ha inciso per la Sorriso Ed. Mus., Rugginenti e, come solista per la Phoenix Classics, un recital comprendente musiche di J. S. Bach, C. Franck, F. Lattuada, F. Alfano, L. Ferrari-Trecate, S. Calligaris, B. Bartolozzi e S. Gubaidulina e per Digressione Music. Con quest'ultima ha pubblicato "Movimento Perpetuo", un nuovo lavoro discografico sulla letteratura originale di avanguardia per fisarmonica degli ultimi quarant'anni con musiche di Andriessen, Hosokawa, Lundquist, Palazzo, Gubaidulina, Tailleferre, Schmidt, di Gesualdo e "FOLKSONGS!" Vol.1 e Vol.2 con il mezzosoprano Tiziana Portoghese e il Folksongs Ensemble .
In ambito cameristico e orchestrale sono da segnalare importanti collaborazioni con il "Tamborrino Ensemble", lo "Xenia Ensemble", Fondazione Adkins-Chiti "Donne in Musica", l'orchestra "Musica Judaica" e il "Collegium Musicum", con il quale ha eseguito, a fianco della violoncellista Elizabeth Wilson, l'opera "Sieben Worte" della compositrice russa Sofia Gubaidulina, per fisarmonica, violoncello e orchestra d'archi; l'Orchestra della Società dei Concerti di Bari, con la quale ha eseguito in prima assoluta nel 2008 il "Concerto per i popoli" per fisarmonica e orchestra, a lui dedicato dal compositore pugliese Luigi Morleo; il "Morley Mediterranean Quartet", il Duo "Folksongs con il mezzosoprano Tiziana Portoghese, il Duo "Palazzo Squillante", con il mandolinista Mauro Squillante.
Nel 2005 ha esordito come compositore vincendo il primo premio all'Ottava Edizione del Concorso Internazionale di Composizione "Franco Evangelisti", indetto dall'Associazione Nuova Consonanza, con "Movimento Perpetuo" – Studio da Concerto per fisarmonica, pubblicato a cura dell'Edizioni Suvini Zerboni.
Le sue esecuzioni e composizioni sono state trasmesse da RadioTre, Radio Vaticana, Radio Classica Network e altre emittenti europee.
Nel Luglio 2016 il Centro Studi Carlo D'Angiò di Scurcola Marsicana (AQ) gli ha insignito il Premio Internazionale Carlo D'Angiò per la sezione "Musica – Composizione".
Nel Maggio 2011 al Teatro Petruzzelli di Bari ha eseguito, in prima esecuzione assoluta, un concerto per fisarmonica solista e orchestra, scritto per lui dal compositore Vito Palumbo.
---
English version
🇬🇧 Francesco Palazzo, a classical accordionist, studied with Salvatore di Gesualdo at the Conservatory L. Cherubini (Conservatorio Statale di Musica "L. Cherubini") in Florence, Italy. He graduated with honors, the first to achieve this in the history of Accordion, in Italy. Then went on to complete his education through courses in Composition, Choral Music and Choral Conducting. Special Mention was received at S. Gubaidulina, at the IBLA Grand Prize competition in 2001 and 2002. He's had the opportunity to perform in prestigious concert halls in The United States, which includes The Lincoln Center, Alice Tully Hall and NY University in New York and in Europe, performing at the Amsterdam IIC and the National Philharmonic Kiev. Also in prominent concert associations and music festivals in a number of the larger Italian cities. In countries abroad, concerts were played in Holland, Germany, Russia, Poland, The Ukraine, Albania and the Congo.
Francesco did his own research on the technical attributes and other aspects of the accordion, which are the color of the sound, musical interpretation and the emotional elements, based on comparisons with other instruments. The results prompted him to re-establish his playing technique and based on his new findings, a basis to build a concert instrument, which is more responsive to the changing demands of art.
Since 1993 he has been teaching Accordion at the Conservatory N. Piccinni in Bari, (Conservatorio Statale di Musica N. Piccinni in Bari). In addition to the concerts and teaching, he works as a transcriber and composer, producing a large number of transcription publications, adaptions and his own compositions for accordion, as well as authoring a vital didactic book entitled Foundations of Accordion Technique for the Berben Edizioni Musicali publishing company and for Physa Edizioni Musicali.
He recorded for Sorriso Edizioni Musicali, Brundibar and for Rugginenti Editore Contemporanea. As a soloist for the Phoenix Audiosystem, he recorded Classic Accordion, a recital which included music by J. S. Bach, C. Franck, F. Lattuada, F. Alfano, L. Ferrari-Trecate, S. Calligaris, B. Bartolozzi, S. Gubaidulina and Digressione Music. Also published was Movimento Perpetuo, a new release from the original literature for accordion avant-garde of the last forty years of music by L. Andriessen. T. Hosokawa, T. I. Lundquist, F. Palazzo, S. Gubaidulina, G. Tailleferre, O. Schmidt and S. di Gesualdo. Folksongs! Vol. 1 and Vol. 2, with mezzo soprano Tiziana Portoghese and the Folksongs Ensemble.
In 2005 he made his debut as a composer, winning the first prize in the Eighth Edition of The International Composition Competition Franco Evangelisti, organized by the Nuova Consonanza, with Movimento Perpetuo, studio da concerto for accordion, published by Edizioni Suvini Zerboni. Francesco's performances and compositions have been broadcasted by Radio Tre, Vatican Radio, Classical Radio Network and other European broadcasters. In May of 2011, at the Teatro Petruzzelli in Bari, he performed his world premiere, the Concerto for Accordion, Percussion and String Orchestra, written for him by composer Vito Palumbo. In July of 2016 the Centro Studi Carlo d'Angiò of Scurcola Marsicana (AQ), awarded him the International Prize Carlo d'Angiò for the Music and Composition section.
In chamber and orchestral music Francesco is widely known for prominent collaborations with:
•The Tamborrino Ensemble
•The Xenia Ensemble
•Adkins Chiti – Women in Music Foundation
•The Musica Judaica Orchestra
•At the Collegium Musicum, he performed along with cellist Elizabeth Wilson,
Sieben Worte, by Russian composer Sofia Gubaidulina, for accordion, cello
and string orchestra.
•The Orchestra of the Concert's Society of Bari, (The Orchestra della Società dei Concerti di Bari) where he performed the Concerto per i Popoli, premiered in 2008, for accordion and string orchestra. Dedicated to him by the Apulian composer Luigi Morleo.
•The Morley Mediterranean Quartet
•Duo Folksongs!, with mezzo soprano Tiziana Portoghese
•The Duo Palazzo Squillante, with the mandolin player Mauro Squillante